My sister and her boyfriend Jeff in front of my church the day after prom last year. He isn't really shorter than her. I believe he is actually an inch taller yet probably weighs less than she does.



I don't think many of you have met my future roomies so I thought you may want a picture.
I just realized you may want names. Nicole is on the left and Joanna is on the right. I met them while in the dorms sophomore year. Joanna lived across the hall from me and we bonded over Buffy. Nicole hung out at our end of the hall a lot. Nicole and Joanna are total opposites on most things and I kinda fall into the middle. We have some great arguments together.



At least Amanda took a chunk out Tacia while breaking her cute new shoes.



Kristen takes a shot at Tod.



Nick, Tacia, me, Josh, Frostin' and Amanda at the banquet.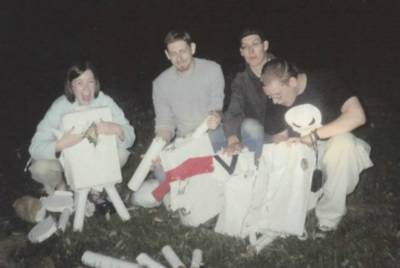 I love Tacia's expression in this picture.



Look how pretty Amanda made my hair!!!